REGISTRATION IS COMPULSORY
to be part of ANY of serverDNA's lucky draws.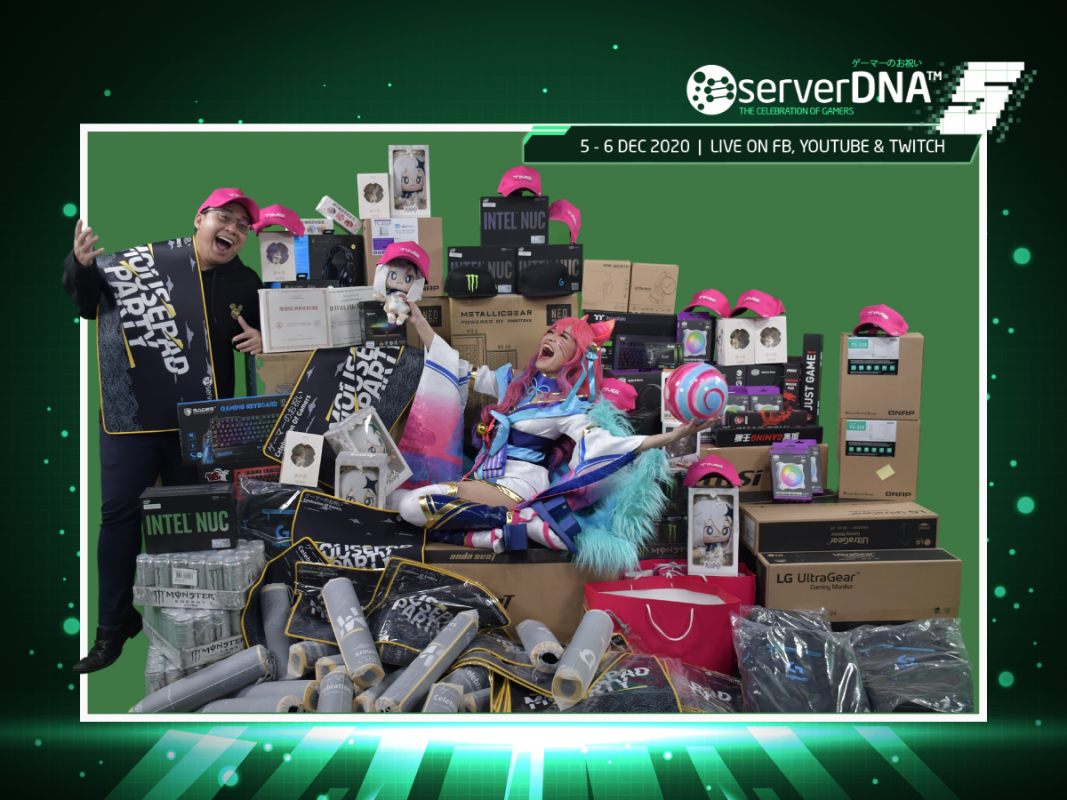 This is because serverDNA is strongly committed to ensuring that our prizes from our amazing sponsors are distributed fairly to our audience and loyal fans.
Hence, you are expected to be viewing our livestream on the 5th – 6th December 2020, as we will be announcing the winners LIVE on our Youtube and Facebook.
Click here to register!
Standard Lucky Draw
The standard lucky draws can happen anytime throughout the day.
You are only entitled to one standard lucky draw prize per day.
This means that if you won on 1st day, you can win again on the second day
Everyone is entitled to participate in this lucky draw as long as you have checked in.
Special Lucky Draw
You are allowed to win in the Special Lucky Draw even if you have already won something in the Standard Lucky Draws.
Event Based Lucky Draw
This is a lucky draw that is focuses only on participations in online activities BEFORE the actual day of serverDNA5.
This lucky draw is in addition to the Standard Lucky Draw. This means that you can still win in the Standard Lucky Draw even after you have won something in the Event Based Lucky Draw!
Stay tuned to our Facebook Page

to be the first to get our announcements and Lucky Draw updates!
Fill in your personal details and request for an SMS validation code.
Check the email that you registered when you signed up. You should be receiving a confirmation email from us.
You will only need to register once.
You will receive an SMS reminder with a link to the event portal 1 to 3 days before the event. 
Use your phone number as the username and key in the password that you used during registration.
If you have forgotten your password, you may request for a new password via the email that you registered with.

To qualify for any of the luckydraws, you will need to log in once a day on the 5th and 6th of December respectively to activate the check-in.

A button that allows you to participate in the lucky draw will be available every time any one of the serverDNA5 livestream hosts announces about the lucky draw during their livestreams, so remember to stay tuned!
If your name is called during our livestream, congratulations!
You are our lucky winner!
Send a WhatsApp message to the official serverDNA phone number, which will only be revealed during the livestream.
Our friendly staff will verify your phone number, as well as the details that you provided during registration before awarding the prize to you.
You will only have 5 minutes to contact us to claim your prize, starting from the time our hosts announces your name.
Should you fail to contact us within 5 minutes, the prize will be released back in to the lucky draw pool.
ServerDNA's decision is final and no arbitration will be entertained.
How will I receive my prizes?
The prizes will be delivered to winners.

Free of charge for winners living within Peninsular Malaysia,
Charges may be imposed on shipping to winners living in Sabah and Sarawak and internationally.
Please check back with our friendly staff for more information on this.

ServerDNA will not be liable and responsible for any items damaged or lost in transit.
ServerDNA will exercise diligence in packing and shipping. So be rest assured that the prizes you won will arrive safely at your doorstep.
Winners will be contacted prior to shipping.